Good communications comes from the top – it also comes from within. I'm not trying to be deep, but I have worked with and for a fair few companies of all sizes in my career and the ones that are the most effective at communication make sure they talk to their staff before they share news with the outside world.
They invest in channels that their staff want to read, easy-to-digest blogs, emails or short newsletters and they make sure they communicate regularly with their staff – including face to face updates. That way, staff don't get any nice or nasty surprises by reading about their employer in the local rag before hearing about it internally. It may seem a small thing, but treating staff in this way is inclusive, respectful and helps to breed loyalty.
It can't just be lip service – if you want employees to stick with you and go the extra mile – you have to give something back. Not just news, but really listening to what they want and how they want it and responding to them.
A little thanks also goes a long way…a client of mine Bluebird Care (Slough, S. Bucks and S.Wycombe), who are genuinely passionate about what an amazing job their carers do, recently created a wall of thanks and achievement for their staff, capturing their training success, customer comments, awards, years' service and any fund-raising efforts. What a great gesture – see below.
The staff response – "Wow"! Now, that's the sort of company we would all want to work for.
They've also shared their news coverage so all staff can see their company news in column inches.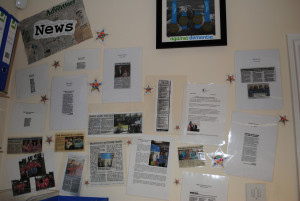 It still makes my day when a client says "Good job","Fantastic" and "Well done"  – I'll gladly put in the extra hours to get them the best media coverage, social media engagement, write the most riveting column and the tightest of press releases. I take pride in my work and positive feedback makes it all worthwhile.
So make sure you include your staff, listen and respond to their comments and suggestions and always share your news with them before it goes out to the world and his wife – they'll become your best advocates and certainly your best assets.