I was in my early twenties when I first saw what professionally trying to 'dodge the bullet' looked like…
I was attending a meeting of very senior professionals (clients) in London, who following a serious failure in the system, were all in agreement that at the forthcoming public inquiry they would not give any media interviews and would literally stay quiet and disappear out of a side door at the end.
I can still remember not quite believing what I was hearing and willing one person to challenge the decision. You don't have to be in PR to realise that you have to be accountable for your actions, especially in a position of seniority.
It was left to me, sweaty palms and all, to stand up at one of the largest boardroom tables known to man and explain why they should ditch their plan and instead prepare to do as many interviews as the media asked for.
Avoiding media suicide
After a bit of coughing and shuffling, they reluctantly agreed. I'm still proud of my younger self for that one – it was terrifying at the time, but I knew their plan would be media suicide and more importantly, it was fundamentally wrong not to take responsibility.
They got pretty fair treatment from the media. It was balanced reporting and even though it was critical, they were able to explain their position and comment on the report. They were also able to explain what measures they were introducing to avoid the situation happening again. Without giving a Press Conference they wouldn't have been able to do that.
It was critically important for anyone affected by the incident, the organisations involved, their community, other stakeholders and tax payers that they were communicating and accessible. It helps to rebuild trust. It shows you appreciate the seriousness of the incident and you care.
Ultimately, we're all accountable for our actions, or we should be.
The right approach
Not communicating would have been the very worst thing they could have done that day, even though it was difficult to face the media, it was the right thing for them to do.
In the run up the day the inquiry report was published, I made sure they received the right support, help with answering media enquiries, writing statements, arranging interviews for them to take part in, media briefing and training.
I'm pretty easy going but I won't ever go along with something I feel is the wrong approach just to keep the client happy.  After all no one would thank me if I didn't take pre-emptive steps to limit any possible negative coverage and to ensure both sides of the situation were reported on.
I learned that about myself three decades ago in a board room in London.
About you
Are you running your own business or important project and also trying to manage the communications?
Do you spend evenings and weekends trying to do your own promotion and need to reclaim your life?
Whether you need someone to run your Communications function, deal with media calls, rewrite part of your website or write tailored social media, I can help!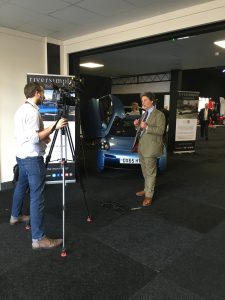 This is client Hugo Spowers, taking part in an interview after media picked up on the Press Release I wrote and issued.
About me
I offer:
✅   Professional, proactive and reactive PR and communications support?
✅   Help to raise your profile and content perfectly tailored to your audience?
✅   Valuable media coverage worth 2.5X advertising space?
✅   Increased credibility in your sector?
✅   A higher online profile through effective website, social media and media?
✅   LinkedIn Content to attract your ideal clients
Why me?
I love my job and when we work together I become an invested partner in the success of your organisation.
Since setting up my boutique agency in 2015, I have worked with several leading public and private sector organisations, managing highly-successful campaigns in the healthcare, social care, recruitment, education and sustainable technology sectors.
Drawing on my experience as a PR and Communications Manager and former journalist, I work with companies and organisations of all sizes, fulfilling their communication needs.
I have helped website traffic increase by 250%, gained national newspaper, magazine and television coverage and supported three successful crowdfunding campaigns with PR, raising over £2 million. I have provided Press Office cover, dealt with countless media enquiries, written publications and helped successfully manage negative online comments.
I provide a tailored service to just a handful of clients at a time, ensuring you have the benefit of my many years' experience in the industry.
See a selection of our media  coverage here:
Mail Online and Mail on Sunday pieces
Are you in?
Book in for 15 minutes of my time to ask me anything you want about your PR, communication and marketing calendly.com/ckellypr
Still unsure?
Read some of my testimonials:
"Gaining features in relevant and well-regarded publications helps to build trust in our business and therefore encourage new customers to try our products. This was OjO's first ever PR campaign and Cathy was an extremely reliable and invested partner in our success. Ultimately, we successfully funded our crowdfunding campaign and we believe that getting PR coverage early on in the campaign was a key driver of the success of the campaign."
Freja Smith, Learn with OjO Marketing Manager
"When we wanted to publicise the launch of our new company, Cathy was my first choice as she'd previously been my global PR manager, was extremely capable and good to work with. Thanks to her experience and skills, we gained some fantastic national coverage within our target industry and were offered a valuable speaking opportunity at a prestigious event."
Tim Richards, CEO, Future Resume
"Working with Cathy on various communication projects within West Sussex County Council was an absolute pleasure. Her knowledge, professionalism and skills allowed us to create positive key messages and quality items for publication and printed resources. I would recommend her to anyone needing a consummate professional to deliver both strategic and operational projects, effectively communicating with different stakeholder groups throughout."
Sarah Dimmock, West Sussex County Council
"We engaged Cathy recently to provide extra support to our company whilst staff were on holiday. She was previously employed by us for a couple of years, so we knew we could be assured of a high standard of work complemented by a pleasant, efficient demeanour; she is a pleasure to work with."
Stephanie Lee, Jonathan Street Public Relations, London
I've been working with Cathy for nearly 1.5 years, after she was recommended to me.  She writes and manages all our social media, advising on the best channels and specifically focuses on LinkedIn and writing our Blogs. She is experienced and knowledgeable, especially about using LinkedIn as a marketing tool, which is a big plus.  She also advises how to best use our marketing budget and which activities to focus on. She regularly steps in with an expert perspective on specific projects, such as content for adverts and helping us to overhaul the website – rewriting key pages and advising on the best design. She's kept up to date with the latest marketing tools, which is good news for her clients. She's proactive, professional and provides an excellent communications and PR service.  "
Dermot Kennedy, partner, Giltinan & Kennedy LLP
"Cathy helped us to reach new audiences and build SEO backlinks around our Kickstarter campaign. On top of this, she provided invaluable expertise for how to choose the right images and messaging, and emphasised the importance of having research and evidence to back the PR story and help increase our chances of success."
Freja Smith, Learn with OjO Marketing Manager
"Since starting work with Catherine Kelly PR our media presence has jumped about 10 fold. Cathy is able to advise on how to go about securing the best coverage and has used a variety of channels, resulting in both print and radio coverage. She also set up and established our social media presence which has grown in a short space of time – giving us valuable extra exposure."
Ian Inglis, Bluebird Care
"I worked with Catherine Kelly PR and was exceptionally impressed. I had attempted to use a couple of other PR services, but the results were disappointing.  During our first three months,  she secured a number of PR opportunities, including several newspaper articles, radio interview, monthly column and a large magazine feature.  Not only this, but she is knowledgeable about social media, blogging and speaking engagements.  She listened carefully at our first meeting and assessed my needs – and then drew up a tailored plan to meet them.  Our budget is fixed, with the opportunity for flexibility where required, so I have peace of mind.  I would not hesitate to recommend Catherine Kelly PR.  She is a delightful person with whom to work and a total professional."
Miranda Banks, Director, Smartivate and Excel in Exams
"I know the wellbeing team are really pleased with the coverage they are getting and it's great to see the Health Champions name in the press so much. People can see the good work that is going on.  You have made such a difference to raising the profile.  I only wish we had you on board sooner!"
Karen Dennison, Director, Health Champions Training
"I have found Catherine Kelly's PR service invaluable. Catherine quickly understood my business requirements; produced a plan to meet them including an agreed price and delivered a high quality product, to budget and within the agreed timeframe. Throughout the process Catherine was great to work with; and I would definitely recommend her work to others looking for a professional, high quality, PR service."
Nikki Gibbins, Director, Achieving Together
Let's chat, calendly.com/ckellypr
Events that shaped me | West Sussex Health PR Blog